CONTACT INFORMATION
HS CENTRE
401 Empire Court, North End Road, Wembley, HA9 0AG
Phone number: 0208 190 0605 Contact via Whatsapp +44 7442876264
info@hscentre.co.uk
Support
Monday To Friday: 8:00 AM - 7:00 PM
Saturday 9:00 AM - 4:00 PM
PRODUCTION TIME
Doors named STA - production time between 2 and 3 weeks
Doors named FARGO - production time between 4 and 5 weeks
Front doors from the KENT - production time between 4 and 5 weeks
Interior doors and garage doors are shipped within 3 - 4 weeks.
Usually, we send the furniture, fireplace within 7 working days after the order has been placed.
To order our doors please select the door model we have on the website and then select the entire configuration and place the order online. Your order is then forwarded to the factory where the production begins.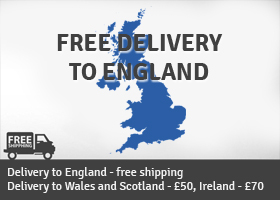 If you have a question regarding our delivery services, please read through our Questions & Answers – you might find that other customers have had the same questions. If you don't find the answer you're looking for, please contact us and we'll be happy to help.